The design and aesthetics of everyday objects I've always found fascinating and I enjoy collecting antique and vintage cups and saucers. They have an endless array of designs, decorative styles, embellishments, colours and shapes. Fifty years ago it was common to collect the best set of china and later pass them on to daughters and nieces. These vintage pieces are still available in garage sales, antique stores and markets or online sites such as marketplace and gumtree. To know what to look for as far as value or age you can look at the design itself.
Tea and ceramics are inseparable, and the shapes of teacups reveal a lot about their age, including the handle that reflects back to specific production periods. Each Ceramic or Pottery house has its own distinctive shaped teacups we automatically associate with that particular brand in the past and even today. So, from this, we can work out value if we are interested in antique or vintage cups and saucers.
During the height of the ceramic industry, 1800-1830 the UK was prosperous and fine bone china sets were designed by the best artists of the day. Also because money was not an issue there was a demand to make teacups and saucers, teapots and tea sets as lavish and beautiful as possible.
Teacups originally were purely a functional item to drink Tea from and were more like a bowl used by the Chinese to drink the first type of Tea. It was a thick beverage made from a small cake of ground, roasted tea leaves. More refined tea bowls began to be made in England as porcelain and Tea migrated to Europe.
Saucers to match teacups appeared in the 1700s and were used to rest the cup on and pour it into, allowing it to cool down more quickly, and could be placed on top of the cup to aid the brewing of the Tea. Tea drinkers had been reluctant to put the early tea bowls onto their expensive furniture, so they set them on shallow dishes which had before been used for pickles and sauces, and so the name saucer appeared.
In 1750 a man named -Robert Adams began to design tea sets with handles that were a welcome change for the English ladies who had been burning their delicate fingers on tea bowls. Robert Adams created taller teacups that came with a saucer which the English thought was unique, and The English Tea Service set was born.
There is an emphasis now on quality tea but in an easy-to-make more portable fashion. The styles and shapes in a more contemporary teacup and mug designs are often less fussy than in previous teacups, but the decorative aspects and the range of designs are broad and endless. Sleek, sophisticated, earthy, chunky, minimalist, funny, pastels, brights, photo mugs, scripted, glass, copper, thermal or anything one can think of are available. Tea infusers, tea bags, tea presses and single-serve infusers to go over a mug and lidded mugs are all ways to make tea quickly and efficiently when time is short.
Tea was sipped from beautiful, dainty cups, later referred to as teacups continued to be functional until the 1780s, when they became ornamental and a status symbol. They were hand-painted and produced until the 1920s when mass production started, and coffee drinking overtook Tea in popularity.
Does the shape and design of your chosen teacup alter the quality and taste of the Tea?
Apart from my interest in the aesthetics of design in teacups, I have found that certain teacups change and enhance the tea-drinking experience. There was a study done in 2019 that proved this to be true. ( The Influence of Teacup Shape on the Cognitive Perception of Tea, and the Sustainability Value of the Aesthetic and Practical Design of a Teacup Su-Chiu Yang, Li-Hsun Peng, and Li-Chieh Hsu from the Graduate School of Design, National Yunlin University of Science and Technology, Yunlin 64002, Taiwan)
The causal relationship between teacup design, and the taste, bitterness, sweet aftertaste, astringency, and overall presentation of Tea was explored in this study. The study found that the same Tea being placed in cups made of the same material but of different designs would not only affect the taste, but also the bitterness, sweet aftertaste, and astringency, which in turn would influence subjects' perception of the overall presentation of the Tea. This proved the important relationship between teacup design and the taste of Tea.
That said, there are three main types of teacups we can choose to drink Tea from – the classic, the flare and the flute.
The classic teacup shape is the most common shape and is the short, wide teacup. They come in a myriad of styles with some being taller, wider, and more shallow and some with steep sides or shorter thicker walls. What they all have in common is a design to enhance the texture and mouthfeel of Tea from a wide surface area. So these teacups will increase the rate of flow as you lift and tilt the cup to sip. Perfect for velvety rich black teas
The flared teacup shape has a lip or rim that curves outwards and it provides a few functional benefits. The delicate thin walls of a teacup mean the heat reaches our fingers quickly so it's hot to touch but it also cools down fast. The rim was designed to move part of the teacup away from contact with the hot Tea. It creates a space to hold the teacup and not get burnt. The flare also gives a more fine-tuned control of how much you sip at once.
The fluted teacup shape has the advantage that the tulip style shape, being tall and cylindrical concentrates the aroma into a smaller area before sending the aroma upwards straight to the olfactory sense.
As well as the three main styles, some teacups are flat on the bottom or on a pedestal or legs and can be plain, scalloped, ribbed, straight or round. The handles are also design elements, being either angular -or popular in the Art Deco period. Or D-shaped, serpentine, ring or curled shapes. Embellishments and decorative features are endless, from fruits, flowers, garlands, two-toned or monochrome, multi-coloured or extravagant gold embellishments applied by hand to white translucent fine bone china and porcelain. In general terms, teacup and saucer shapes vary within a particular brand; Shelley, Royal Albert, Wedgwood, Ansley Minton, Meissen and many more. They have unique shapes and styles that are named but do not necessarily move from one brand to another.
For centuries, the Japanese and Chinese cultures have perfected tea drinking, and both cultures use various styles and sizes of teapots and teacups. In common, though, is the use of tiny teacups- often petite. The thought is that you can experience and taste tea better in small amounts. Size does matter, and although many of us use breakfast cups and large mugs for tea, according to the experts, too large a vessel may diminish our experience of good quality tea.
And now to the saucer; over the decades' teacups have been broken more quickly than saucers, so markets, antique shops and garage sales always have saucers available. A British designer Richard Brendon noticed thousands of saucers were available without cups, so he reunited them with new cups and made them functional again -the range is called Brendon's Reflect line of teacups. The saucers are antique, and the cups are contemporary, with a reflective patina that would seamlessly mirror the gorgeous handiwork of the saucers and look aesthetically unified. The teacups in this innovative range made for the saucers are a "bute shape" designed after the classic Georgian period from 1800 to 1850 and manufactured at Stoke-on-Trent, the historic area of the pottery industry of the UK.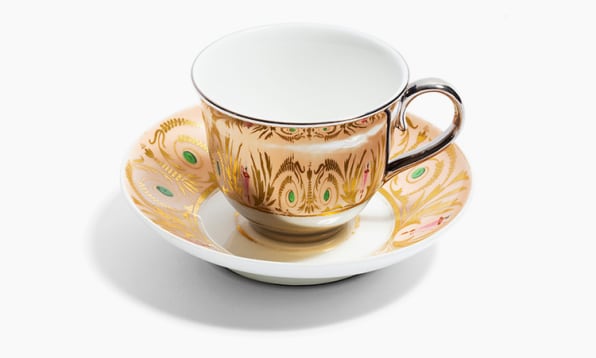 All content Di Baker 2021
Images The first five images Di Baker including the header image
Other Images as cited
Thanks to Fastcompany.com for Richard Brendon's images and information